Newsletter 552: Nuremberg Toy Fair 2023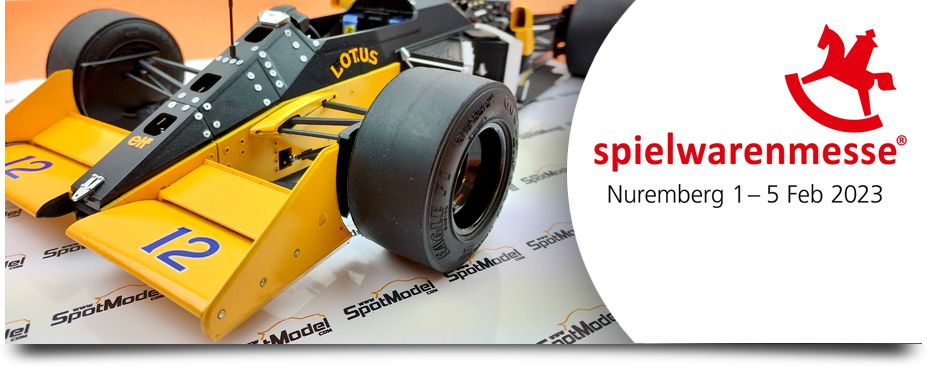 Nuremberg Toy Fair 2023

Here's the SpotModel team broadcasting live, announcing the highlights of the Spielwarenmesse 2023 where the main manufacturers of plastic scale models show us their next releases... here we go!!!!

Italeri has made us crazy, they are possibly the most tantalizing with their novelties: in the coming months we will see a second version of the Lancia Delta in 1/12 scale that will be delivered with the Sanremo livery, and the... Lancia Stratos!!! That's crazy!!! There are also reeditions of several trucks, and the return of the police VW Golf, the Bugatti Royale Napoleon, ...

Tamiya reissues the Porsche 935 Martini in 1/20 scale, and have also shown the Gordon Murray Automotive GMA Type 50 in 1/24 scale. They have not yet determined the exact date on which the product will reach SpotModel shelves, but we finally have at least a price tag, so you can start reserving NOW all the units you need for yourself, your friends, your neighbors or even your grandmother. XD

Revell has basically shown us just reeditions, but some of them VERY interesting like the Jaguar E-Type in 1/8 scale, the Mercedes-Benz Schlingmann Unimog U1300L TLF 8/18 firefighter, or the highly coveted Volkswagen Corrado, to name just a few of their stuff.

Nunu has FINALLY allowed us to touch, smell and caress the Lotus Honda 99T in 1/12 scale!!! The release date of the product to the market has been delayed for a thousand and one different stories, but now we are very very close indeed to having it on our workbenches.

There are more, many many more things, that we will continue to tell you from SpotModel. Stay tuned!!!
---